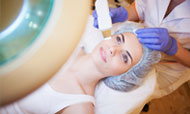 Dermatology

About the Department
The Department of Dermatology, Venereology and Leprosy at the Malabar medical college hospital and research centre was started in the year 2008 . The department comprises a team of well trained and experienced dermatologists who are devoted towards patient care and effective management of diseases involving skin, hair and nails. The faculty also provides comprehensive teaching facilities to the undergraduate and postgraduate students under the norms of Kerala University of Health Sciences (KUHS). Department holds regular theory and clinical classes for the undergraduates as per the posting list provided. Post graduate teaching programmes include weekly seminars, journal clubs, case presentations, clinicopathology case discussions and short topic symposium which are aimed at making the students highly competent in the field of Dermatology, venereology and leprosy. Apart from this, having equipped with most advanced technology and constant upgradation we also provide hands on training in Cosmetic dermatology and Dermatosurgery to the future dermatologists of tomorrow. Together as a team the department strives to contribute to this ever growing field through constant research activities and by conducting various CME and training programmes.
KEY FEATURES
Excellent infrastucture with state-of-the art facilities Comprehensive coverage of various sub specialities including Cosmetic dermatology, Pediatric dermatology, Dermatosurgery.
Speciality clinics on regular basis for acne, psoriasis , vesiculobullous disorders, pigmentary disorders, Hansens diseases and sexually transmitted diseases (STD)
30 bedded in-patient services for those requiring admissions and undergoing Dermatosurgery procedures
Community services by conducting regular camps in the surrounding villages
Offers scientifically proven aesthetic treatments at affordable rates
Infrastructure
Procedures including Micro‐Dermabrasion, chemical peeling for mild and moderate acne scars, wrinkles, fine lines, sun‐ damaged skin, Phototherapy for psoriasis and vitiligo and Radio Frequency surgical procedures like removal of skin tags, warts, freckles, birthmarks, moles (naevi), blackheads, corns and calluses are routinely performed by experts at the department. Skin biopsies are conducted in cases of skin tumours.
IN PATIENT SERVICES
The department has 30 beds ( 15 beds each for males and females ) reserved for dermatology inpatient management. Patients who require admission and those who need observation post dermatosurgery procedures are admitted and provided necessary care at affordable rates.
Out Patient Services
For booking, please contact: 0496 2701800
Publications
ONGOING RESEARCH PROJECTS
1. Clinicoepidemiological study of Paedrus dermatitis in a tertiary care institution in North Kerala by Dr Parvathy Santhosh
2. To study the clinicoepidemiological profile and Dermoscopic features of Pityriasis Rosea in a tertiary care hospital in North Kerala by Dr Shwetha V Rajiv
Other Activities
ONGOING RESEARCH PROJECTS
1. Clinicoepidemiological study of Paedrus dermatitis in a tertiary care institution in North Kerala by Dr Parvathy Santhosh
2. To study the clinicoepidemiological profile and Dermoscopic features of Pityriasis Rosea in a tertiary care hospital in North Kerala by Dr Shwetha V Rajiv