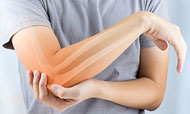 Orthopaedics

About the Department
Orthopaedic department of MMC has vision to take care of the orthopaedic problems in an around Kozhikode district and is well equipped to deal with orthopaedic emergencies including all fractures and dislocations as well as elective cases including Arthroplasty, Arthroscopy, Spine Surgery, Deformity Correction and problems in pediatric orthopaedics. The Arthroplasty division caters to the need of many patients with pain and deformity of both knees as well as hip, affecting their activities of daily living and are well satisfied with the procedure and care given in this hospital. The Rehabilitation department takes care of all the patients who has chronic problems and help the patient to regain their activities of daily living, as quickly as possible.
Ligamentous injuries affect not only the sports persons but also the general public involved in Road traffic accidents and other household injuries. The Arthroscopy division helps these patients get back to their work after successful surgery and rehabilitation.
Backpain is a common problem, which affect most of the people at any point of their life. Our hospital has got enough expertise and infrastructure to correctly diagnose the cause, treat them and rehabilitate them with good support from PMR division.
We conduct regular free camps both in hospital and as well as in outskirts of town & village to provide awareness regarding how to prevent from common orthopaedic injury and also to screen for common orthopaedic problems.
We regularly engage in various teaching learning methods, which include regular joined clubs, Seminar presentations and workshops, along with research to improve the understanding of this great subject in our Society-orthopaedics and PMR.
Out Patient Services
For booking, please contact: 0496 2701800
Publications
List of research publications